2019 Early Season Atlantic Hurricane Forecast

Hurricanes Cause Billions in Damage Annually

The 2018 Atlantic hurricane season saw above-average tropical activity and went on record with 15 named storms, 8 of which became hurricanes. These storms caused about $50 billion in total damage. No matter the size, hurricanes can be detrimental to business operations. Preparedness is key to mitigating risk and ensuring the safety and well-being of your personnel.
Find out what WorldAware's meteorologist and Sr. Environmental Analyst predicts for the 2019 season in the annual report.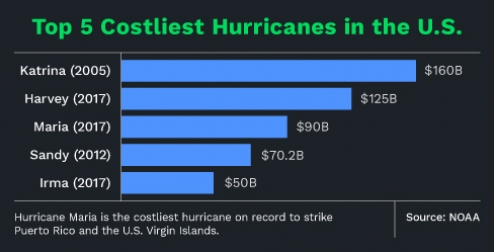 Hurricane Damage Assessment: Hurricane Maria

30 Intelligence
Alerts Sent

Hurricane Maria At-a-Glance


Over the past few years, hurricanes have caused more than $400 billion in damage in the US alone.
This underscores the need for proper preparedness and a business continuity plan that
reflects best practices for hurricanes and related weather events.

Get our hurricane business continuity preparedness checklist today.


Request the 2019 Early Season Atlantic Hurricane Forecast.

WorldAware, Worldcue, Travel Intelligence, Critical Trac and Critical Monitor are registered Trademarks owned by WorldAware.

All rights reserved. ©2000-2020. WorldAware, Inc. | Privacy Policy | Terms of Use

Copyright ©2018 DemoMain. All Rights Reserved